Cottage Farm – organic, sustainable, resilient
Here at Cottage Farm we have demonstrated that it is perfectly possible to farm sustainably and in a resilient manner, that is organically, without using fossil fuels but still utilising machinery and energy. I have given presentations about that at The Royal Agriculture College, The Transition Network conference, the Eco-Innovations conference at Westminster Hall and in Parliament addressing MPs from an All Party Parliamentary Group. I am always happy to share our experiences with others at meetings and conferences.
Cottage Farm is an organic, sustainable, resilient, carbon-sink farm powered by renewable energy with near zero use of fossil fuels, as far as I can find out, one of the first in the country.
We rear native breeds almost exclusively on grass with minimal use of supplementary fodder, following a high welfare regime.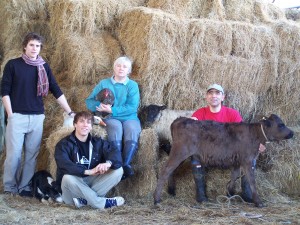 We moved to Cottage Farm back in August 2005, not having had any farming experience at all – soon after I learned about Peak Oil. Our aim was to establish a resilient food producing business with a zero carbon footprint and zero use of external energy, serving our local community.
Having converted the farm to organic status, established a herd of local rare breed Red Ruby cattle and a herd of rare breed Wiltshire Horn sheep, we now supply our community and nationwide customers with fresh beef and lamb boxes.
When delivering our product boxes locally or to London we use carbon neutral means of transport and reusable packaging.
At the same time we have also completed the conversion of our house to zero carbon footprint, reducing our carbon footprint from 7 tonnes CO2/year to –0.7 tonnes CO2/year, representing a decrease by 110%.
Apart from lots of insulation, draft excluders and LED lighting, systems used include solar thermal tubes, wood burner and wood stove, heat store for hot water and central heating, PV panels, wind turbine, bore hole water and others. All the wood we use for heating is home grown on the farm.
In addition, we also produce our own 100% bio-diesel from waste vegetable oil, which we use to run our car, Landrover and the farm tractor, and to deliver our meat boxes. That means that all the work done on the farm and all our deliveries as well as our general driving is almost completely CO2 free.
Of course, as an organic farm, we sequester some 100+ tons of carbon annually into the soil of our fields.
We are featured by:
Superhomes,
Grand Design,
Great British Refurb,
Sustainable Development Commission,
Transition Movement,
Farming Futures,
The Royal Agricultural College,
Cornwall Today
and others,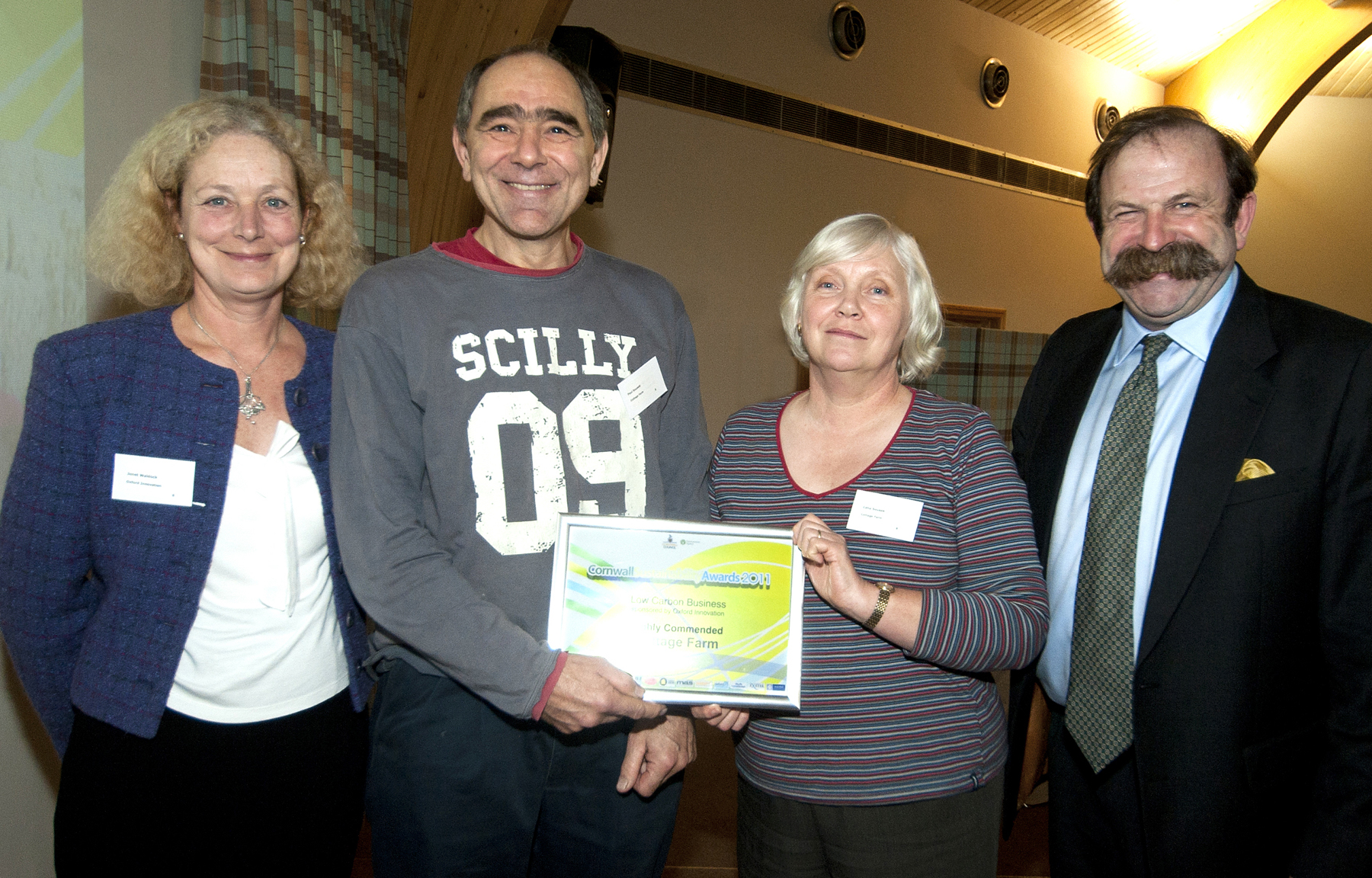 We were awarded the Highly Commended prize at Cornwall Sustainability Awards and were runner up 'Sustainable Farmer of the Year' at the national BBC Food and Farming Awards. BBC made a 20-minute radio programme with us (http://www.bbc.co.uk/iplayer/console/b015ygx0 ) and we were featured on Countryfile.
I am now also being invited to speak to various groups on these subjects to demonstrate that organic carbon neutral farming is possible and that every farm in the country could be and should be a net energy exporter. Not only does that have benefits for the farmer, but also for the country, making agriculture resilient in the face of energy price hikes and future shortages.
Good place to find out more about Cottage Farm is in our Local Food Directory:  TransitionNC (click on Food Directory and look up Cottage Farm) or in our other on-line farm shop on eBay farm shop.
Fieldpower Organics is a new service we have established to deliver organic produce from Cottage Farm and later from other local organic farms to London addresses once every month by carbon neutral transport – See Bigbarn.
To help spread the message, I am a founding member of Transition Cornwall Network and Transition North Cornwall, for which I administer the website: TransitionNC, which is packed with well over two and a half thousand items helpful in converting to a sustainable lifestyle and to maximizing local resilience. TransitionNC now has some 1600 members, making it one of the largest Transition groups in the country.
You can contact us by clicking here.